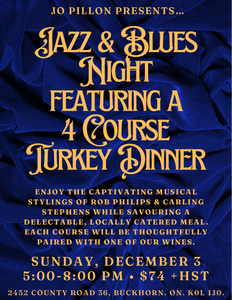 Jazz & Blues Dinner
Immerse yourself in the soulful melodies of jazz and blues, accompanied by a delectable seasonal feast.
This event will be locally catered by 2 Fat Greeks, whose unparalleled talent for crafting exquisitely presented and delectable catered meals is sure to leave you dazzled. Prepare to be captivated by their culinary artistry and impeccable attention to detail, as they create a dining experience that is truly unforgettable.

~ Dinner Menu ~
Appetizer: Savoury Eggplant with creamy feta cheese, fresh diced tomatoes, aromatic herbs, and a tantalizing Garlic Explosion dip. Paired with our: Shiro Plum Dry (3oz)
Salad: Vibrant Bean Salad showcasing a delightful blend of quinoa, crisp mixed vegetables, and fragrant herbs, all dressed in a delectable vinaigrette crafted from our signature Bread Dipper. Paired with our: Berried Treasure Dry (3oz)
Main: Exquisite Turkey Roulade filled with a tantalizing Greek stuffing, boasting a harmonious blend of tender rice, succulent beef, and luscious dried fruit. Served alongside a medley of vegetables sautéed to perfection in our flavourful Garlic Cooking Wine. Paired with our: Cranberry Apple Off Dry (3oz)
*Vegetarian or alternative stuffing option available upon request
Dessert: A Beautiful Surprise Dessert that will enchant your taste buds, featuring our sweet cranberry jam as the star ingredient. Paired with our: NEW Black Currant Dessert (2oz)

~ Event Itinerary ~
5:00 - Mingle & Music
6:00 - Appetizer
6:15 - Salad
6:30 - Dinner
7:00- Dessert
Mingle & Music until 8:00
*Additional glasses of wine and cider are available for purchase throughout the evening.
Tables seat 6 people - purchase tickets individually or reserve a full table. 
Location: Kawartha Country Wines at 2452 County Road 36, Buckhorn, ON. K0L 1J0.
*Wheelchair Accessible
⏰ Pre-registration is required and any cancellations made within 48 hours of the event will not be eligible for a refund.
---