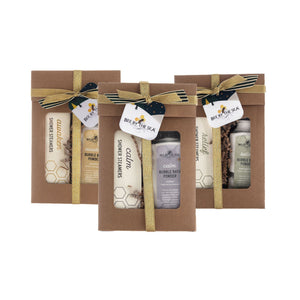 Bath Care Gift Set - Calm
The perfect gift to calm your nerves!

Enjoy the benefits of aromatherapy or add fragrant frothy bubbles with this at home spa gift set! Each gift set includes a bubble bath powder and matching shower steamer pack. These unique gift sets are packaged in a kraft box with matching fill and bright gold ribbon.
Bubble Bath Power - 227 g / 8 oz - 100% recyclable container
Shower Steamer Pack - 
Place one steamer onto the shower floor in one of the two corners closest to the water stream. The tablet will fizzle when in contact with the water on the shower floor. The aroma will be released as the tablet dissolves. Keep out of direct stream to ensure tablet lasts for the duration of the shower. Set includes 7 steamers.
---
We Also Recommend
---